Makassar_Monday, 19 APRIL 2021, Archaeology students who are programming the excavation course start the Excavation Exercise (Latihan Ekskavasi or Lateks) activity in the eastern field of the Faculty of Cultural Sciences. This activity is the third stage of the excavation course starting from the material in class, preparation, implementation of Lateks and closed with writing a report as an important part of the course to be able to pass this course. The excavation exercise (Lateks) activity lasted for approximately 10 days starting from 19-30 April 2021 and was attended by 32 students.
The competencies expected of course participants after completing the Lateks include being able to conduct site surface surveys, mapping and making grids, determining excavation boxes, making layouts In addition, participants are also expected to be able to understand and practice deepening techniques, recording findings, handling findings and sediments, recording the excavation process, handling findings for box closure laboratories and preparing reports.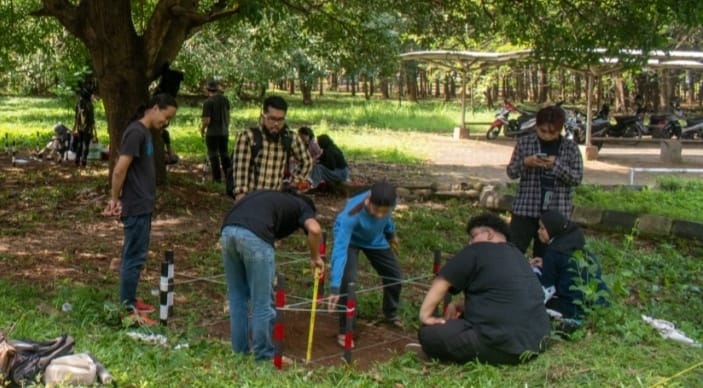 The Lateks activity was started by assisting students in mapping and making grids, accompanied by a lecturer who was very influential in the subject, Mr. Erwin, and laboratory assistant, Mr. Lukman Hakim, who was also assisted by several senior archaeology students. The next activity is making layout by dividing participants into 6 groups consisting of 6 people with a box size of 2 x 2 meters with an interval of 10 cm deepening.
This activity was attended and monitored by the dean of the Faculty of Cultural Sciences, Prof. Akin Duli. In addition, on the sidelines of the excavation, a speaker from the UNHAS Soil Science lecturer, Mr. Fauzan to provide some knowledge about soil, especially soil character so that it becomes additional new knowledge for students. Furthermore, it was also reviewed by Mr. Djaelani Prasetyo, a forensic and medicolegal lecturer at the Faculty of Law UNHAS and had discussions with the Latex supervisors and students regarding the excavation technique methods used in archaeology which might be applied in excavations for medicolegal and forensic purposes.
The Lateks activity was closed by closing the excavation box on Friday, April 30, 2021, at 15.00 and cleaning the Lateks location, then proceeding with an experiment to analyze findings at the Hasanuddin University archaeological laboratory on May 1, 2021.